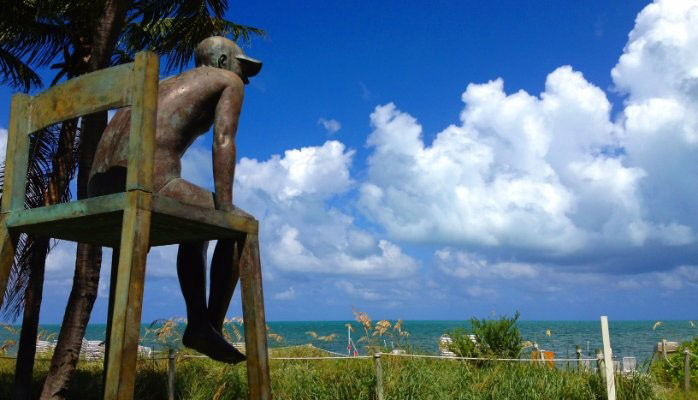 I'm assuming that your company, like many other companies, has gone through the exercise of defining at least one or all of these five buoys for your company's brand – Mission, Core Values, Brand Personality, Desired Customer Experience, and Brand Position. (If you haven't gone through that exercise yet, I encourage you to enlist an experienced facilitator to help you do so.)
In this article, I want to simply encourage you to take a panoramic view of your own company's Core Values from your employee's perch. Why? Because I've seen two specific scenarios at play across a myriad of companies that can have either invigorating or dangerous results:
Active and swimming along? The company's Core Values have been articulated AND are purposefully (not to be misconstrued with "perfectly") nurtured and reinforced throughout the entire culture. The employees are expected to know the company values but more importantly, they see management demonstrate, recognize, and reward behaviors that are in harmony with the values.
Frustrated and flailing? The company's Core Values have been articulated BUT are viewed to be disconnected from the reality of the culture. These values are seen by many employees merely as "corporate mumbo jumbo" found on internal presentations and plaques or external marketing hype via company websites, social media, literature, advertising, and PR because they see the words (and may even be able to articulated the values on cue) but the behavior demonstrated from management is inconsistent at best.
What is your scenario? Get honest with your answers to the following:
Can you effortlessly recite the Core Values of your company?
Can all of your customer-facing employees?
How about EVERYONE in your company?
If not, why not? Are there too many words to remember or to provide focus?
Besides simple mental recall and verbal recitation, are these values visibly and consistently being lived out by management?
How are these values being taught and reinforced throughout the organization?
A high-stakes example. One of my first assignments within a Fortune 100 company was initially viewed by the company as a "communications" issue that needed resolution. This company had a notable track record for completing successful acquisitions with military precision. However, a very large acquisition hadn't yielded the same expected results as previous acquisitions had and the company suspected that messaging was a major contributor to the sub-par performance in this new multi-state territory. This sub-par performance required attention. It also created a job opportunity for me.
Clear, concise, and consistent. My first day on the job, my boss scheduled a meeting with me to outline the "measures for success" for my new role. A central element of that meeting was her clear articulation of the company's values and the company's expectations for me. Not only did she state the company's values at that meeting, she consistently modeled those values for me and her other "direct reports" throughout my entire tenure at this company.
The first couple of weeks within this company, I experienced similar modeling from executives who, like my boss, were seasoned and well-respected veterans of this company. The culture was THICK and tangible based largely on the three values articulated to me on my first day. These values immediately resonated with me beyond my intellect and hit me squarely in the heart. They were:
Do the right thing.
Foster teamwork and trust.
Have a passion for winning.
Those values were simple to understand, presented with memorable examples, and prioritized. They were freeing, empowering, and aligned with my own values as well as my personal mission to make a positive difference in the lives of others. These stated values transcended corporate mumbo jumbo and helped me find a noble purpose in the midst of working in Corporate America.
Positive reinforcement. The values weren't merely words. They were reinforced in the culture. Within the first few days, peers informed me that there was even a rare, prestigious, and highly coveted award (a Waterford crystal hand grenade) that was given by the Chairman and CEO to exceptional employees who exemplified these values in above-and-beyond situations.
Trouble on the horizon. After my first couple weeks of orientation at the corporate headquarters, I hit the road and began my quest to uncover why the messaging wasn't helping the company realize the same results it had in other substantial acquisitions. I met with general consumers, customers with specialized business needs, front-line customer service personnel, mid-level sales people, in-market marketing professionals, and regional executives across an 11-state footprint. In doing so, I discovered two notable things:
There was in fact a messaging "disconnect" that impacted internal audiences and external customers differently. Frankly, that was the easiest thing to fix.
There was a marked difference between transplanted, legacy executives who were strategically placed in leadership positions throughout the new footprint by the ACQUIRING company. The transplanted execs knew and modeled our values in the same manner I had witnessed at the corporate headquarters. They modeled empowerment. However, it also became clear that members of the ACQUIRED company had been greatly impacted by the negative press surrounding the historic acquisition and the natural fear of the unknown. They weren't fully aware of the surprisingly entrepreneurial culture that was suddenly available to them and the empowerment that our Core Values enabled. This was a huge disconnect but I saw it as a huge opportunity if we addressed it as thoughtfully and deliberately as my boss treated my first day on the job.
Benchmarking the Ritz-Carlton. Since cloning my boss wasn't really an option for systematically conveying our Core Values to the thousands of newly added associates, I decided to look to a company I had observed and deemed to set the gold standard for articulating, reinforcing, and consistently demonstrating their Core Values: The Ritz-Carlton. We had already defined our Core Purpose, Core Values, Brand Purpose, Desired Customer Experience, and the Role of Associates. We just hadn't been consistent, deliberate, and systematic in our training and communication throughout the organization. We used the Ritz-Carlton as a benchmark for conveying this information via a simple wallet card given personally, one-on-one, cascading throughout the organization in attempts to recreate the experience I was given by my boss (and now long-term mentor).
Tangible results. While we didn't necessarily reach the consistency and same standard of excellence set by the Ritz-Carlton, this effort contributed to some significant results. The 18-to-24-month assignment initially presented to me turned into a less-than 12-month assignment as we saw a turnaround in some key metrics we were measuring shortly after the company-wide roll-out of our "brand conversation" with the brand wallet card as a reminder of the conversation. A few results included:
Products sold per day/FTE increased by 31%.
Core product sales grew by 220%.
Unaided brand awareness grew by 357%.
Brand preference grew by 415%.
Brand consideration increased by 600%.
Granted, these results weren't due solely to this initiative as we had many talented associates focused on addressing the challenges. We modified our advertising messages along with other initiatives. However, leaders at the highest levels of the organization acknowledged the importance of this particular initiative as it was central to who we were.
Application. I wanted to bring to our executive team something that was proven, aspirational, and applicable. The Ritz-Carlton provided the example we needed. I still maintain that The Ritz-Carlton set the standard for the consistent delivery of their "Service Values" (Core Values) throughout their organization. They work diligently on training and reinforcing these values as well as other articulated elements of their brand experience. Clearly, there are other companies doing a great job out there but I am grateful for what I learned from The Ritz-Carlton in the midst of this critical assignment as well as the experience I've enjoyed every time I am fortunate enough to stay at one of their properties.
Solomon once wrote, "There's nothing new under the sun." Given that truth, we can enjoy great results by learning from others who have succeeded in areas we long to improve. By taking an honest look at our own situation and adapting, refining, and applying things that have proven to work for others in order to address our short-comings, we can positively impact our employees, customers, and our bottom line.