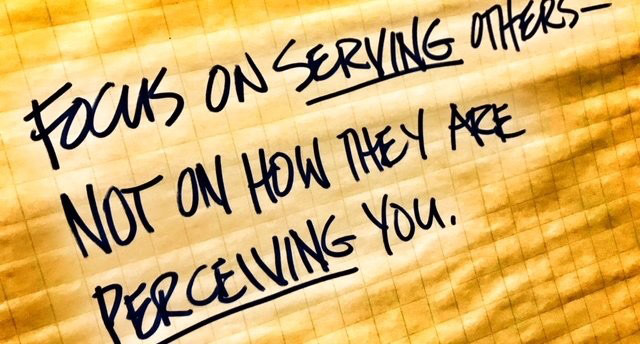 A comment card from many years before was tormenting me again… "Gary is better 1-on-1 than in speaking in front of a crowd." My take: "He sucks at public speaking."
As I was preparing to serve as the emcee at another 2-1/2 day retreat with hundreds of notable business owners & their spouses, I was being haunted by stinging (& true) words from my past.
I felt like Moses must have felt when he was asked by God to go back to Egypt & deliver a speech to Pharaoh. Moses replied, "Oh, my Lord,…I am slow of speech & tongue."
As I poured out my fears in prayer the night before our retreat, it hit me: "A servant isn't to be concerned about how he is PERCEIVED. A servant is to focus on SERVING — not on how people are perceiving him."
Mind whiplash: Focus outward, not inward.
At the retreat, I fought hard to focus on SERVING our guests in my emcee duties rather than how they were perceiving me. When I would see someone in the audience tune me out, I forced the thought, "Serve them!" Not, "How am I doing?"
Amazingly, as I shifted from how I was BEING PERCEIVED to focus on how I was SERVING, I started having a blast.
Those pesky post-event comment cards? Many commented on how welcome I made them feel & how natural I was in speaking before an audience.
If they only knew…
Insight CXO helps bring clarity and alignment to people, strategy, execution & cash flow in measurable sprints across the organization — from the management team on down. We're here to serve.