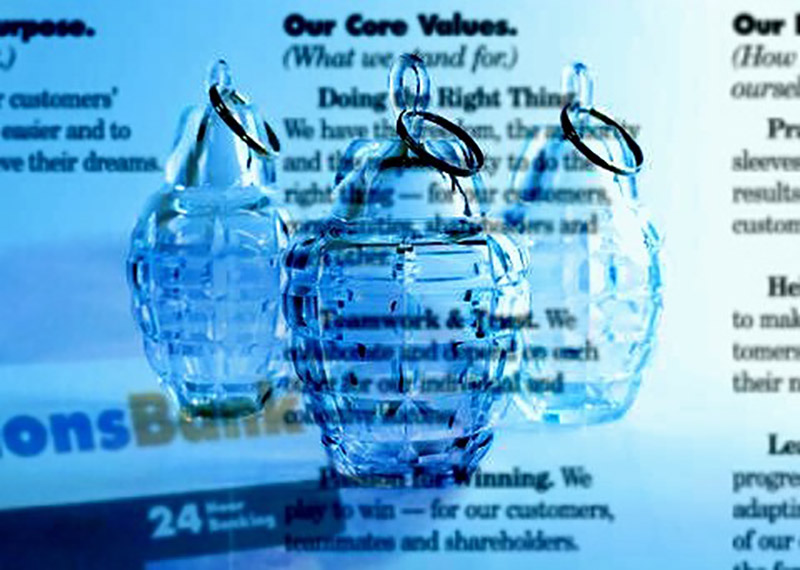 My boss welcomed me into her office & shut the door. I had no idea that meeting was about to deliver the impact of a hand grenade.
"Welcome to OUR company. We're glad you're here," she greeted me.
She quickly moved to a topic sacred to her & to the company: Core Values.
She smiled but took on a serious tone. She said, "We stand for 3 things: 1) Do the Right Thing, 2) Teamwork & Trust, 3) Have a Passion for Winning – in that order."
It wasn't marketing gibberish. These were expected & rewarded behaviors here. She continued, "My job is to make sure the CEO knows who Gary Frey is. Your job, once you've built your team, is to make sure I know who your stars are. Hire your replacement & never be afraid to hire people smarter than yourself."
Servant Leadership: She didn't just talk about it. She LIVED it. She led by example.
Her peers & the CEO recognized her for it. She had the most coveted object in our company tucked away on her shelf: a Waterford crystal hand grenade. She never mentioned it. She didn't have to. It was legendary. A precious few were given by the CEO to associates who had "jumped on the grenade" on behalf of our associates & customers.
She remains the best boss I've had. My takeaway: Know your core, lead by example, & when necessary, "jump on the grenade."
(NOTE: This post launched on LinkedIn on 1/15/2018 to honor my former boss and our former CEO who set the tone as well as gave the coveted "Crystal Hand Grenade" award. By 2/14/2018 it had been viewed by 7.9 million people. Amazing.)