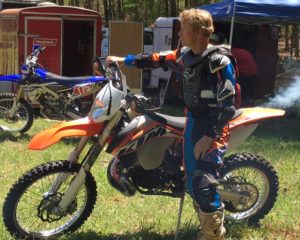 The Grand Canyon looks very different in person than it does on a map. Like the Grand
Canyon, there are some things that just have to be experienced firsthand vs reading a report or a survey to really accelerate learning. This year I started riding dirt bikes, and with my pro mountain biking background, I got hooked instantly. As soon as I found my 'flow' on the trails I wanted to start racing. But unlike mountain bike racing, there are many questions and much more complexity in the type of dirt bike racing that I wanted to do in the GNCC (Grand National Cross Country), Enduro, and Hare Scramble categories. These are 1.5 to 3 hour races in the woods. Not a big deal right? But how do you prepare for a race when you can't pre-ride the course to really know what to expect in a very dangerous sport? Rather than train for months, I did the unthinkable and entered my first race last week after only having about 15 hours of ride time under my belt. Long story short, it was a great decision and a HUGE confidence booster.
I set some rules for myself before starting:
Don't get in over my head during the ride and sustain an injury
Have fun
Finish
Get faster each lap (negative splits)
Focus on form, not on speed
It's okay if the outcome of my first race is deciding that I don't like dirt bike racing
In your business, what are some of the growth strategies that you are considering?
How can you accelerate learning to vet or test ideas?
What boundaries or rules can you artificially create for safety?
What planning cadence do you have in place for real time feedback?
What would a 'win' look like?
Back to the racing – I placed 5th, had negative splits, and my last lap time put me in the top three in my category. Nice! But what I learned was that my weak point was descending down steep hills and shifting gears while standing up. There is no way I could have predicted this as my top two things to focus on during my training rides. Looking at the topography map and the race start, I thought hill climbing was the focus. I had to experience the race firsthand in order to improve in the next one. The overall outcome was that I LOVED the race and may have found my new thing at 45 years old…. Very cool!
You can't win a race by just watching. Don't wait for perfect data, perfect training, and all the stars to line up to race for the first time. Get in the race and accelerate your learning! You never know… You might get hooked!