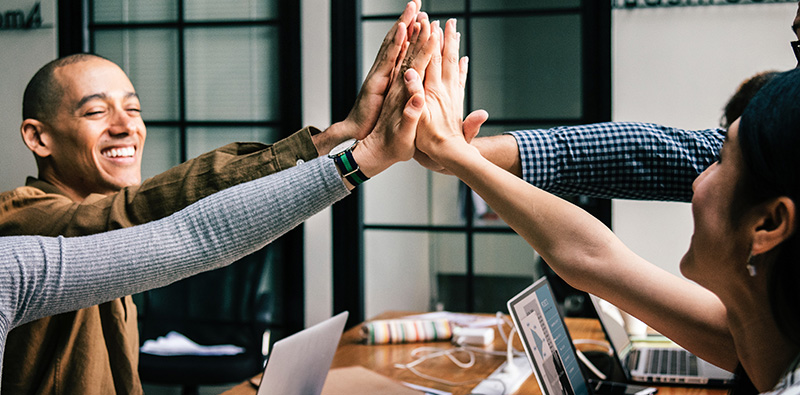 For a sports team to win the big game and stand atop the podium with the big trophy, it not only needs the best players at each position, but also all of the individual athletes working well together toward their ultimate goal: winning. To be the champ, an athletic team can't just have the best players on the field, coaches on the sidelines or front-office staff to manage the day-to-day business. It also needs everyone who influences its success – vendors, sponsors, ticket buyers, consultants and the league office – to buy into what it's selling.
The same things are true in business, and, just like in sports, a poorly functioning team will prevent you from achieving your version of the Ultimate Podium Finish™, the goals you've set that will determine whether you've beaten the competition and won the game of business in your field.
Just like in sports, your team isn't just the people who work at your organization, but also your entire universe of customers, vendors, contractors, advisors, coaches, consultants, etc. You want to attract and retain A-players – the people who are onboard with your Core Values and achieving (or beating) performance goals – and weed out the players who drag your business down.
Build A Team Of A-Players
We've all heard stories about locker-room issues that prevent a sports team from winning games. This also happens in business. To build a team full of A-players you must address the things that repel A-players from your business. Often, this is management not taking any action to fix problems with B or C players, bad processes or customers who are more trouble than they're worth to the bottom line.
A-players maintain your Core Values – the rules and behaviors that define your culture and personality – and are repelled by co-workers whose bad or inappropriate behaviors cause workplace tension or reflect poorly on your business.
First, make sure that everyone on your current team knows your Core Values and has a fair chance to show whether they can live by them.
Next, you need to identify your A-players and deal with the B- and C-players. Place everyone on an ABC matrix.
B-players: weak job performers, but their behavior reflects your Core Values
B/C-players: strong performers, but they have behavior problems
C-players: poor performance and poor behavior
Now you need to deal with what you've learned. Let's tackle this in reverse order:
C-players: eliminate them, either by terminating them or finding a new role that will give them an opportunity to become A-players.
B/C-players: clarify behavioral expectations and give them an opportunity to change the attitudes or actions that are keeping them out of the A quadrant.
B-players: offer job training to help improve their job performance. (Consider Laurie Bassi's exhaustive research, which showed that training and development produced a 672% ROI, more than any other investment a business owner could make.)
A-players: take actions to keep the A-players happy and engaged. (Dealing with the B- and C- players should help.)
Get Your A-Players Working Together
Building a team of A-players isn't enough for small and midmarket companies to achieve the Ultimate Podium Finish™. Those A-players must work together, driving as a team toward your goals. The technique to breaking down those silos is creating cross-functional responsibilities. During your quarterly planning, identify quarterly Rocks, and the Tasks needed to achieve them, that involve multiple departments. Although one person is accountable for each Rock, he or she must work with people across the business to achieve it.
This strategy encourages leaders to work together, and it also exposes any interpersonal issues or other below-the-surface things that are preventing your people from being a team. As those issues surface, they must be quickly addressed with team-building exercises or other interventions to get healthy.
Why It's Important
Just like in sports, your team can make or break your ability to achieve your Ultimate Podium Finish™. Take steps now to ensure that your team is full of A-players – high-performers who reflect your company's Core Values and are committed to the business' success.