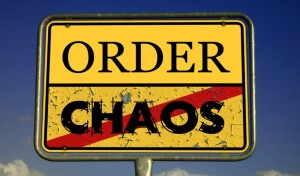 Rapid growth is exciting … and chaotic. When your growth strategies start paying off, the processes that worked well when you were smaller can break down as you add clients, revenue and employees to your business. As you get more decision makers, with differing opinions on how to do things, your processes can become so cumbersome that they threaten to slow your business and increase your risk.
This was the situation faced by one of our clients, a global pharmaceutical services company that saw an enviable 880% organic growth rate over the last four years. Its employee headcount and active customer list were growing beyond capacity, and they had a serious case of growing pains. They knew their processes weren't working anymore, and they asked us to help them retool to both absorb growth and continue doing what produced their steep growth in the first place.
Take a Step Back
Anytime you're looking for new, better ways of doing things, you must first define how you're currently operating to figure out what's really causing your problems. This process of defining your core processes – a group of related activities that transform various inputs into an output that adds value to the customer – is the best way to ensure that the solution you adopt is a Breakaway Move that supports your overall strategy.
To get there, step back and 1) look at processes to see how things are currently done; 2) determine if new systems would improve efficiency; and 3) challenge your processes and see where there might be opportunities to make them leaner.
Here's what that looked like with the pharmaceutical services company we're working with.
First, we had to get clear direction on what problems needed to be solved. We had to get the team laser-focused on the outcome and make sure we didn't try to "boil the ocean"– to try to do more than was realistic or necessary.
Next, we defined the cost of poor quality – the things that could be negatively impacted by not making changes (for example, customer satisfaction, employee effectiveness, compliance).
Then we recorded all of the existing processes. When we began, the team thought they had 10 processes, but once we really dug in and challenged the team and each process, we found there were over 20 different processes in place, with multiple touch points and people involved. We got there by breaking each process down by the following components:
Define the process: What 1-2 sentences does the process owner use to describe it?
Inputs to the process: What steps, actions, templates or tools are needed for the process to start?
Process steps: What is the activity and/or transformation that takes place?
Outputs: What is the result of the activity and/or transformation taking place?
Controls: What manual or system controls are in place? What's on your wish list for the future?
Risks: What risks are in the existing process?
Regulatory requirements: Are there any U.S./international regulatory or compliance requirements that must be considered?
Finally, we took the team through a "wish list" exercise to capture all areas of potential opportunity the client didn't have capability for, but hoped to see after they made changes.
Potential solutions were weighed against a cost-benefit analysis to ensure that what they chose to adopt (and their priorities for adoption) would provide the biggest payoff in terms of alleviating problems and making processes better, faster and cheaper.
When your processes are causing a lot of business pain, it may seem like a lot of time and trouble to take a step back to define your core processes, but it's the most effective way to implement processes that are more than a Band-Aid, but fix your problems for the long run.
Image: Geralt / Pixabay