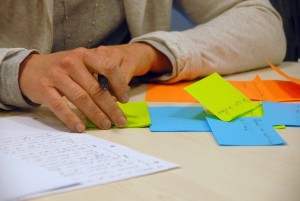 One of most misunderstood or left out components of the Gazelles One Page Strategic Plan is the QUARTERLY THEME section.  For larger companies, this is one of the most powerful and transformational techniques that you can leverage for growth.
Here's the deal and reality.  You and your Senior team just had a quarterly retreat (you do have quarterly planning right?) and everyone is pumped up, aligned and ready for battle.  Then somehow, the core messages from the retreat fail to resonate with the rest of the staff.  They did not have a full day to discuss, debate and agree on what matters most.  And in less than a third of the way through the quarter, all of the momentum from the retreat is lost and it's back to the old habits again.
The power of the Quarterly Theme is it connects the retreat to the rest of the company for the entire quarter. And the Theme is usually created in a way that is fun and keeps the #1 Thing from the retreat top of mind for everyone.  These Themes can be posted anywhere and there is almost never any issue with prospects or clients walking through and seeing the progress.  In my experience, talking about a Theme with an on-site prospect is a deal closer.  It changes the conversation from 'what' we do to 'how' we do it and run the business.  Trust and confidence is accelerated and so is the sale!
Involve employees to help with the creative aspect of the Theme and let them help decide what the reward is if they hit their goals.  They will 'own it' this way and won't have to be sold on it.
The idea for the Quarterly Theme can come from several sources. My favorite Theme generation method is to connect the #1 Thing the company has to do in a quarter to win the race.  Just think about the power of having 100% of your staff thinking every day of the quarter on the #1 thing for the business!
Warning…Themes by design usually come last on the agenda in a retreat and are often left out due to lack of time or energy to complete.  Creating a Theme should be a high priority in the retreat Objectives and agree in advance what is going to happen if getting a Theme done is in jeopardy.
---
Here are five easy steps to create winning Quarterly Themes:
Focus on the #1 Thing for the quarter or the top one or two Rocks (Priorities) for the Theme topic.
Based on the above, determine what the measure of success is going to be.
Allow the team to brainstorm and create a fun and engaging Theme including design.
Create a reward to achieving the goal… does not have to be monetary.  The best usually do not.
Discuss how the Theme will be communicated throughout the company and rolled out.