I'm just beginning to mountain bike race again after recovering from a second neck surgery. Rather than restarting in a class better suited for my racing re-entry point, I have chosen to line up against the top Pro/Elite racers in the region. These dudes are FIT and FAST…. "dialed-in" as we like to say in the mountain bike racing world.
Last week was my third race back in the mix, and historically I've done pretty well on race No. 3 coming back from time off. Not this time. I'm starting to race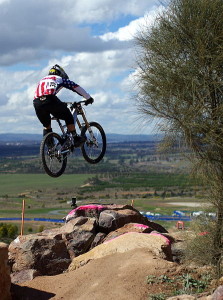 I was in third place going into the woods on lap one and hung on for about 15 minutes… then I faded fast and lost the front group. I was in the dreaded "no-man's land" for most of the race. I was out there by myself with no rabbit to chase (I could not see the front group), and the group behind me was out of sight as well. This is where the negative side of the brain really kicked in.
"This hurts way too bad, it's too hot, they guy leading out is 20 years younger, pull over after this lap and quit!"
Fortunately I didn't listen.
Lessons For Business
Just like in a mountain bike race, it takes AWARENESS and FOCUS to win in business when you feel like you are in "no-man's land" and want to quit.
1. Awareness – Separate yourself from your situation and accept the fact that your negative brain has taken over the conversation. Replace the negative soundtrack with a positive one. Remind yourself why you're racing, why it's important to finish the project. Think of the lessons you're learning that will help make you faster in the next race, the next project… or in the next quarter.
2. Focus – Refocus and re-energize by being aware of where you are and giving yourself control to have a good outcome, even if it means making an adjustment to your intended final result. In my race, I changed my focus from leading the race to not letting the group behind me catch me. And with this focus, I was able to raise my heart rate, get the adrenaline flowing again and push down the pain.
2.5. Never Quit – In racing we call quitting a DNF (did not finish). Always finish the race, no matter what. There are more lessons in not quitting than there are in winning. One thing I have learned is that when the race is over, it's over. No going back. No second chance to change a decision. And the pain is gone in less than 10 seconds. Don't let your negative brain win, though it's very convincing. We are hard-wired that way, but a key to success is overcoming it.
In our professional lives, even with the best plans and preparation, things don't always go the way we plan. Sometimes problems are just speed bumps that slow you down, and sometimes they seem like roadblocks that make you want to quit.
But ultimately it doesn't matter how large the obstacle is. When things aren't going as you'd envisioned, tap into your Awareness and Focus, shut down the negative brain, keep going and find a new way to win.
(Image: "MTB downhill 19 Stevage" by Steve Bennett. Licensed under CC BY 2.5 via Wikimedia Commons)